Products
Baby Capsules
If you are looking for a baby capsule the new two part design consisting of a hard shell and soft cushioning is extremely comfortable for your baby.
Trend
Model: T053
Features:
The Trend Baby Capsule has a hard core with soft, UV-resistant upholstery. Washable material. Heavy-duty three-point belt with plastic snap lock. Safety instructions on the baby seat. It is available in Flame Red and Blue.
Top Quality Soft MCP Material                                                
Strong External Support Shell
Integral 3-Way Harness to Secure Baby
Easy -to-Operate Buckle
Customised Mounting Frame and Kit
Fits 160L, 212L and 230L Shopping Trolley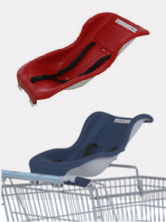 ---
If you require new trolleys, maintenance program or trolleys for hire contact SOS on 1300 131 383 to look at your requirements and provide the best solution for you.