Products
Carpet & Anti Fatigue Mats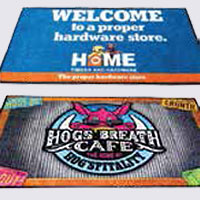 Premium Carpet Dyed Mats
These mats are our Premium Heavy Duty Carpet Dyed branded mats. Constructed from a luxurious tufted antistatic heavy duty non woven commercial grade nylon twist pile carpet; heat bonded to a 1.5mm nitrile rubber non slip backing.
Our factory in Melbourne uses the latest of carpet dyeing printing technology where the mat graphics are injected deep into the carpet pile for stunning vibrant graphics that penetrate the fabric all the way through to the rubber allowing for vibrant and sharp colour representation of your logo and PMS colour matching. The Rubber is 100% Nitrile and will not curl or fray even after continuous washing. These mats are hose-able, machine washable or dry-cleanable.
These logo mats can be used for a single or double doorway entrance and can be used indoors or outdoors.
Sizes Available: 600 x 850 / 850 x 1200 / 850 x 1500 / 1200 x 1800
Material: Nylon/Nitrile Rubber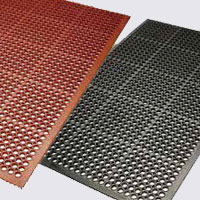 Premium Anti Fatigue Mats
Premium Grade Rubber Anti Fatigue mats with holes ideal for kitchens and wet areas.
Features:
- 12mm thick
- 10kgs weight
- Offers excellent slip resistance
- Comfort for feet and legs and insulation from cold and heat offloors.
Size: 900 x 1500
Material: Nitrile Rubber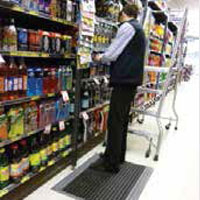 Power Pod Anti Fatigue Mat
These anti fatigue mats are Australian made and can be custom sized to suit whatever application you have in mind from gym locker rooms to oce reception areas to stock rooms.
Non absorbent Easily cleaned, just hose off
Impervious to Oil, Acids, Chlorine and Solvents
Non Conductive, helps prevent electrical hazards
Bevelled edge, prevents tripping
Constructed from Compound EVA foam rubber with a thickness of 15mm and Bevelled edges for safety
Light Weight : an 85cm x 160cm size is under 2 Kilos
Colour available to suit your corporate colours: Black, Grey, Blue, Yellow and Red
Size: 700 x 860 / 700 x 1600 / 1200 x 2000 / 1000 x 1600 / 1000 x 3100
Material: EVA Foam
Please contact us on 1300 131 383 or E-mail sales@sosmaintenance.com.au for an obligation free quote.