Anti Bacterial Wipes
Trolley wipes
Our Sanitation Stations are designed to provide shoppers easy and convenient access to our eco-friendly CitrusWirx sanitation wipes. They are the convenient way to keep your work place free of germs for your staff and customers from viruses and bacteria that can be transmitted from a variety of equipment and surfaces to you.
Citruswirx wipes can be used in a variety of industries from sanitizing shopping handles, fitness equipment, play centre equipment, call centre equipment plus many more applications.
CitrusWirx sanitation wipes are completely alcohol free and use EPA registered disinfectants makes them safe for both adults and children to use.
Our fresh citrus scented wipes are also environmentally friendly and are 100% biodegradable.
Easy refill Citruswirx wipes are sold separately. Each roll contains 460 wipes and there are 12 rolls in a case.
Following are the range of products that can be purchased:-
Wall Mount Dispenser
Wall Mount Custom Sign
Floor Stand / Dispenser / Bin
Floor Stand / Dispenser / Sign/ Bin
CitrusWirx antibacterial wipes - 460 Wipes per roll
Download > Shopping Trolley Sanitation Wipes brochure
Download > Sanitation Wipes in Gyms brochure
Download > Citruswirx brochure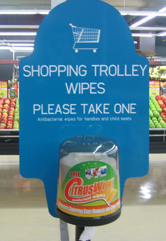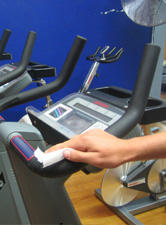 Please contact us on 1300 131 383 or E-mail sales@sosmaintenance.com.au for an obligation free quote.